One of the biggest frustrations I've had with "Madden" over the past
couple of years is the disgusting amount of times receivers catch the
ball without making any attempt to get both feet in bounds.In
a blog on EASports.com, "Madden NFL 11's" lead designer, Ian Cummings
addresses that issue, along with a couple of other welcome fixes to the
receiving game. "As developers, catching has always been
one of the hardest and most frustrating areas of our game to tune
because of the sheer amount of possibilities," explains Cummings. "When
you start to try to account for all the different angles a pass could
be coming in to a receiver along with the difference in his body
position, it is always a difficult problem to solve."To
address these issues plaguing the game, EA Sports created a debugging
tool to figure out why certain catch animations were being triggered
more than others (think jump catch). Where last year, a receiver would
actually slow down on the route simply to make a jump catch in the
game, in "Madden NFL 11" receivers in open space will now catch the
ball in stride. "These types of catches will only trigger, however, if
there is not a defender in the path of the route or in a position to
make a play on the ball," writes Cummings. "We want the Larry
Fitzgerald/Calvin Johnson type receivers to really go up and fight for
the ball and come down with spectacular catches if there is a crowd of
defenders around them.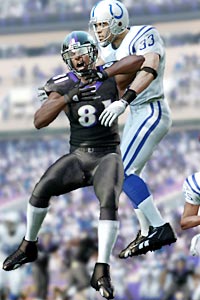 EA SportsBoldin fights for the ball.
"Another
area of focus we have been working on is tuning the frequency for when
"aggressive" types of catches can trigger. In previous years there have
been situations where you could sometimes see a receiver playing a
catch where he runs back towards the ball. These could sometimes be
seen on Curl/Hitch/Smash type routes as well as Screen routes behind
the line of scrimmage. There is nothing more frustrating than calling a
5-yard route on 3rd and 4 and having the receiver catch it moving
towards the QB and get tackled for a 2-yard gain. Well, this year, the
receiver won't play those types of catches (unless of course there is a
defender between him and the ball). If you are running a 10-Yard Curl
and the defender is behind you, the receiver will always be forced to
match a 'standing' catch so he can try to backpedal into the defender
for extra yardage. Also, we eliminated the likelihood that a receiver
that is behind the line of scrimmage (e.g. WR or HB Screen play) would
play a running, aggressive style catch if he is in open space."Last but not least, Cummings addresses those dreaded sideline catches."For
'Madden NFL 11,' with the help of the Catch Debugging Tool, we have
corrected all of our sideline/back of the end zone catches. You no
longer have to be afraid of trying to squeeze that Deep Out or Goalline
fade inbounds, as now the receivers have much more advanced AI to get
both feet in." But that's not all, as Cummings adds that
EA Sports has done extensive motion-capture work this year when it
comes to these virtual receivers in order to get more authentic
animations into the game.Will the new animations and
debugging pay off? ESPN will find out when EA Sports reveals "Madden
NFL 11" to the press for the first time the week of the NFL Draft.